Give your dog the comforts of home even when they're away. Your dog will enjoy 24 hour care, as well as outdoor playtime and hikes.
Dog Boarding Rate: $50 per night
Our Boarding is exclusive to IQ K9 Training clients who've participated in one of our training programs.
Once we have trained your dog, particularly if your dog has attended one of our Board & Train Camps, your dog will be very familiar with our home, our property our routine and of course, our dog training team.  Your dog will think of IQ K9 Training as their home-away-from home.  They will have a great relationship with us and be very comfortable.  Also, because of our training, your dog will also be off-leash trained, so they can run, hike and have lots of fun as well as get lots of exercise during their stay with us.
Once your pup has graduated one of our required training programs, you open the door to a wonderful client benefit….not only will you have a well-trained dog and a stronger bond, you'll also enjoy utilizing our Dog Boarding service in Fallbrook.
How to become an IQ K9 Training Graduate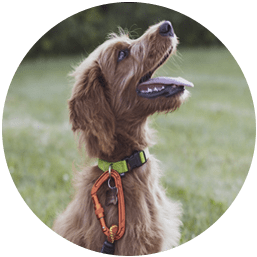 Dog Training Boot Camp
Our Dog Training Boot Camp's are our most comprehensive program and will help you and your dog communicate together better than ever. We will fast track your dog's manners and skills to expert level.
Dog Training Private Lessons
We will teach you how to train your dog. After each lesson, you will be equipped with the tools you need to communicate more effectively with your dog. It's never too early or too late to get started.
What will your dogs day look like?
Your dog will wake at 6:30am and begin their day. Throughout the day, your dog will be reviewing their dog training commands and marker words, practicing around distractions, going on hikes and have plenty of potty time as well. The training lessons and playtimes vary in duration and times of day depending on your dog's motivation, drive, and interest. In addition, your dog will be able to spend some time in our backyard areas throughout the day to take in the fresh air and watch everything that is going on around them. Last potty break is around 9:30pm and bedtime is 10:00pm. Your dog will rest comfortably for the night in their private kennel.
Refresher training sessions
Playtime with trainers
Hikes
Brushing as needed
Updates and photos delivered every three days